About the School
 The Woo Kim Errington Taekwondo School was founded in 2010 by Revelina Lukashuk. Originally started as a branch of the Woo Kim Nanaimo Taekwondo School, Errington Taekwondo has become its own club over the years and now runs three schools over three different locations; Errington, Bowser, and Nanoose. The school is often accompanied by Grand Master Gil Woo Kim and Master Steve Large (See the Instructors & Black Belts page), who come test the students every three months and to help us all improve.
Errington Taekwondo, having over 60 members in the Errington location alone, is a friendly, safe, and helpful environment; no one looks down to each other and we are all friends.
 The school offers two free introductory classes, camps, tournament training classes, advanced classes every Wednesday, tournament trips, an after-school program, and more.
 **Additional fees for camp programs apply**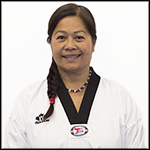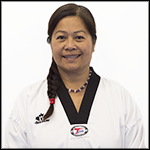 Master Revelina Lukashuk
 Like all of us, Revelina Lukashuk started as a white belt and has trained hard to be where she is today. She started her training at the Woo Kim Nanaimo Taekwondo School back in 2004 with Master Steve Large, the head instructor of Nanaimo Taekwondo. Revelina achieved her first degree black belt in 2007 and began teaching the Little Tigers class at Nanaimo Taekwondo. She later achieved her second degree black belt in 2009 and, shortly after, started the Woo Kim Errington Taekwondo School. Revelina is now a fourth-degree black belt, and continues to train and teach, learning from both her students and peers, and helping others achieve their goals; whether it be a black belt, to win a gold at a tournament, or just have fun and improve their skills. Many of her students have achieved their goal of reaching a black belt, but many have decided to not just stop there; they continue to train and become more skilled, knowledgeable, and learn to teach.