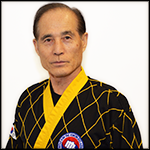 Grand Master Gil Woo Kim
Senior Grand Master of Woo Kim Taekwondo Association
Grand Master Kim has been involved in Taekwondo for over 50 years. He is a first generation Grand Master trained under Grand Master Lee Nam Suk who was head of Chang Moo Kwan and one of the original co-founders of the World Taekwondo system.
When Taekwondo was in it's infancy and there were few schools across Canada, Grand Master Kim was one of the first to pioneer this new martial art. After moving to Canada, Grand Master Kim opened his first Canadian Taekwondo School in Ontario in September of 1971 and subsequently a school in Alberta in 1974. He later moved to B.C. and was a resident of the Comox Valley for six years, establishing the Courtenay Taekwondo School in September of 1977.
Grand Master Kim has served as the Director of the Canadian Taekwondo Association, President of the B.C. Taekwondo Federation and is Past Chairman of the Master's Advisory Committee for the B.C. Taekwondo Federation. He currently conducts Woo Kim Taekwondo Schools in Surrey, Langley, Victoria, Comox, Parksville, Nanaimo, and most recently has opened schools in Errington, and Cumberland. Grand Master Kim maintains an active interest in his schools and their students holding regular grading tests and seminars and oversees all activities within his association.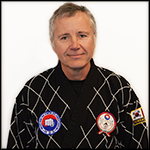 Master Steve Large
Senior Master of Woo Kim Nanaimo Taekwondo School
Master Steve Large started Taekwondo in January of 1978 with Grand Master Kim as his instructor in Courtenay and after 38 years remains the most senior active student in the Woo Kim Association. Master Steve trained for six years under Grand Master Kim until Kim relocated from the Comox Valley to live in the lower mainland.
Master Steve moved to Nanaimo in 1986 but did not become active in TKD again until he started the club up in May of 1988. With only six members from an original International TKD club, Master Steve established the Woo Kim Nanaimo Taekwondo School. Over the years Master Steve has graduated many students to their Black Belt rank and beyond.
Some of the students that have been taught by Master Steve in the past have progressed on to become Master Instructors as well. This group includes Master Murray Fee, and Master Brett Fee (Woo Kim Parksville), Master Harry Sese (Bellview Washington), Master Dan Thornton (Woo Kim Surrey), Master Ruth Rowe (Adelaide Australia), Master Revelina Lukashuk (Woo Kim Errington), and most recently, Master Mike Lowe also with the Woo Kim Nanaimo School.
Today after nearly 27 years, Nanaimo Taekwondo is still going strong thanks to the dedication of the Student Executive and Master Steve working in cooperation to make it one of the best schools around.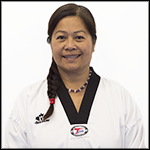 Master Revelina Lukashuk
Master of Woo Kim Errington Taekwondo School
Revelina started her training with Master Steve Large at the Woo Kim Nanaimo Taekwondo School in 2004. Revelina achieved her first degree black belt in 2007 and began teaching the Little Tigers class. She later achieved her second degree black belt in 2009 and shortly after founded the Woo Kim Errington Taekwondo School. Revelina is now a fourth-degree black belt and continues to train and teach learning both from her students and her peers. She has been an active coach in tournament competition and has helped many students to realize their goals and improve their skills. Through Revelina's efforts many of her students that have achieved their goal of reaching a black belt continue to train and have become instructors themselves.
Second Degree Black Belts

Jody Lukashuk
Head Instructor

Daniel Dzogan

Oscar Sargent

Aslan Done

Beau Mongeau

Mitch Fontaine

Teagan Wolfe

Riley Fox

Anonymous

Kabrin Molina-Ware

Jackson Fox

Farleigh Pickering

Emery Konst